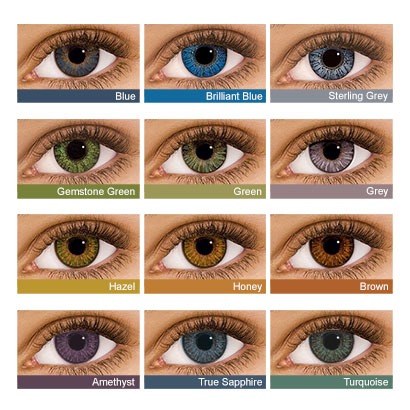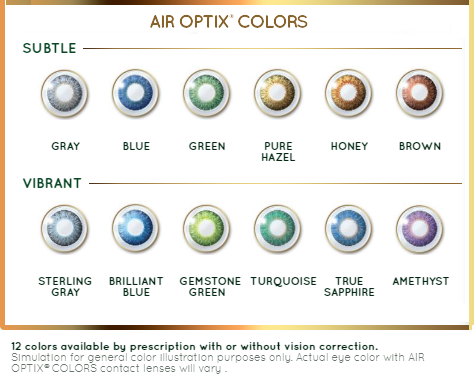 AIR OPTIX® COLORS contact lenses are designed to enhance dark or light eyes with 1 of 9 beautiful, comfortable colors, whether or not you are in need of vision correction. Whether you are looking for a subtle or vibrant effect, AIR OPTIX® COLORS contact lenses offer an option for you. With AIR OPTIX® COLORS contact lenses, enjoy breathable, comfortable, and beautiful contact lens wear in a full range of colors—with or without vision correction.
AIR OPTIX® COLORS contact lenses are made with a unique, smooth surface and feature a technology that combines 3 colors in 1 to blend naturally with the color of your eye, so you can experience a new look that can be subtle or vibrant.Contact lenses are medical devices that should be fitted by a licensed eye care professional, even for people who do not need vision correction.
Colours we can supply are: BRILLIANT BLUE, BLUE, TRUE SAPPHIRE, TURQUOISE, GRAY, STERLING GRAY, AMETHYST, GEMSTONE GREEN, GREEN, PURE HAZEL, HONEY & BROWN.
Lens Type: monthly replacement colored contact lenses
Package Details: 2 colored lenses
Diameter: 14.2 mm
Material: Lotrafilcon B
Water % of content: 33%
Hi there,
The contact lens are quite comfortable and easy to wearing. I believe the clear one are even better, day & night. I do like the product and will stick with it.
Cheers

Air Optix Colors contacts

Easy to use, so comfortable that I forget that I have them in. Very happy, will purchase again.